If you are writing a note, seminar paper, or you are interested in a particular area of law, you will want to be apprised of the latest publications on that topic.  An easy way to stay up-to-date on new journal articles is to set up an alert that will inform you of any new publications in the topic areas of your choice.  

HeinOnline recently introduced SmartCILP, a weekly publication that alerts you to the latest articles indexed in the Current Index of Legal Periodicals, also known as CILP.  CILP indexes by subject heading, the most recent issues of primarily American law journals and includes more than 650 legal publications organized within 104 relevant subject headings. The University of Washington Marian Gould Gallagher Law Library has maintained CILP and sent out weekly updates to subscribers for nearly 90 years.  Now users can subscribe directly to these updates through HeinOnline. 
To set up your SmartCILP alerts, and customize the topic areas for which you would like to receive updates, go to: https://heinonline.org/HOL/CILPDownloads?collection=cilp and click on "Create New SmartCILP User."
Then, enter a BLS email address, and choose the topics, subjects and/or specific legal journals of interest.  Remember that if you are off-campus, you will need to have the proxy installed (https://www.brooklaw.edu/Library/Proxy-Server).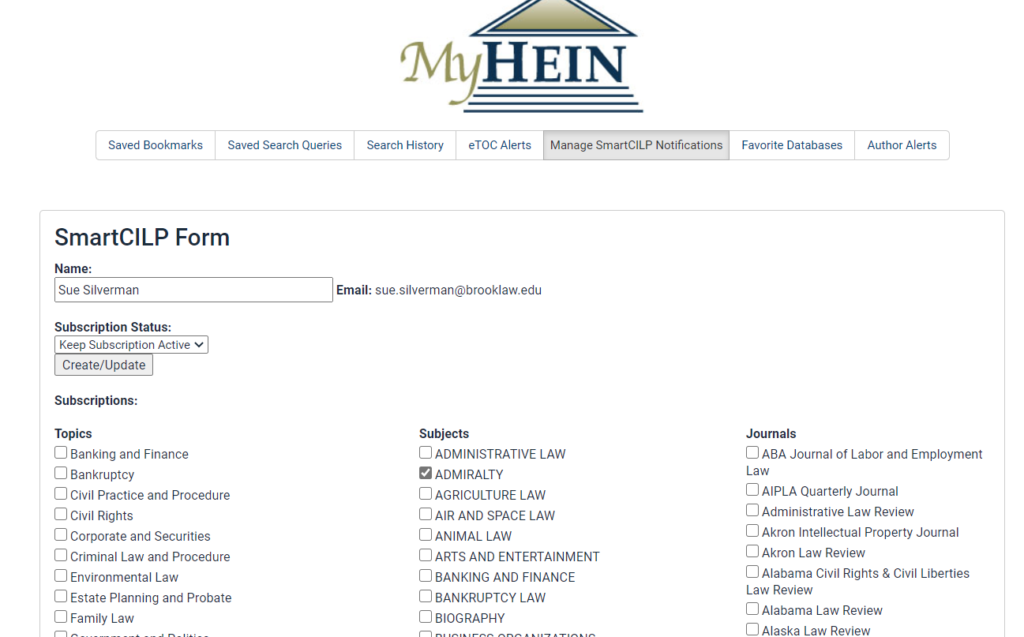 Note that you likely would receive your first SmartCILP email on a Monday. This email could be caught in Mimecast, so please check Mimecast and click "Permit" to allow future SmartCILP notifications to appear in your "Inbox."If you have any problems or questions, email askthelibrary@brooklaw.edu.