The 57 titles in the Brooklyn Law Library April New Books List cover a wide range of topics from constitutional law, global internet law, the legalization of marijuana, marriage equality and practice and procedure in asset forfeiture. There are several items that should interest graduating law students and aspiring lawyers.
Anatomy of a Trial: A Handbook for Young Lawyers by Paul Mark Sandler (Call # KF8915 .S24 2014) is designed for young trial lawyers eager to gain an appreciation of how to handle real problems encountered during jury trials. The second edition examines key phases of jury trials (voir dire, opening statements, direct and cross-examination, and closing arguments) in the light of two particular cases, one criminal and the other civil. The criminal case involves highly complex subjects and law campaign finance, national politics, and Hollywood fundraising, among others and necessitates simplifying and storytelling for the jury. The civil case illustrates the reality that most cases hinge on the credibility of witnesses, and also showcases the critical importance of experts in trials of a technical nature. This new edition also includes an all-new third case, a non-jury civil trial.
Entertainment Careers for Lawyers
by William D. Henslee (Call # KF299.E5 H46 2014) discusses entertainment law, a popular area of study for law students and a desired career path for practitioners. Yet the glamor of working with actors, production companies, musicians, writers, and others to create works of art comes with long hours, hard work, and fierce competition for jobs. This Third Edition will dispel many of the myths surrounding the practice and help lawyers and law students gain an understanding of the realities of entertainment law. The book will help readers gain an overview of the substantive law areas included in entertainment law, from intellectual property and litigation to contract negotiations and estate planning; understand the pros and cons of specializing in entertainment law; learn about the career trajectories available in four major entertainment genres: music, theater, film, and television; land a first job as an entertainment lawyer as a law student; and understand the day-to-day realities of working as an entertainment lawyer.
Introduction to Advocacy: Research, Writing and Argument by Harvard Law School Board of Student Advisors (Call # KF281.A2 I57 2013) is a clear, concise and accessible introduction to legal research and writing. The Eighth Edition includes examples and helpful tips about effective writing as well as warnings about common mistakes students should avoid. In addition, there is a new chapter on rule synthesis. The book also includes a new, full-length memorandum and two updated briefs.
Law Firm Job Survival Manual: From First Interview to Partnership by Nancy B. Rapoport (Call # KF297 .R37 2014) will help new lawyers run the gauntlet of their legal careers faster and smarter. Written with humor and sensitivity, this concise handbook demystifies the etiquette and ethics of the law firm environment while providing essential survival skills. The book spans law careers from summer job interviews through the first year of partnership.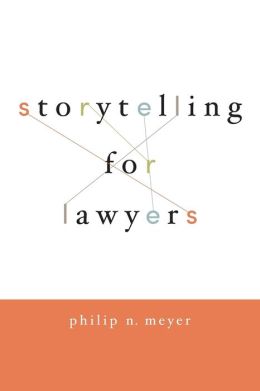 Storytelling for Lawyers by Philip Meyer (Call # K181 .M49 2014) offers a narrative tool kit that supplements the analytical skills traditionally emphasized in law school and practical tips for practicing attorneys to help craft their own legal stories. Good lawyers have an ability to tell stories, whether arguing a murder case or a complex financial securities case, explaining a chain of events to judges and juries so that they understand them. The best lawyers are also able to construct narratives that have an emotional impact on their intended audiences. The author begins with a pragmatic theory of the narrative foundations of litigation practice and applies it to a range of practical illustrative examples: briefs, judicial opinions and oral arguments. Intended for legal practitioners, teachers, law students, and even interdisciplinary academics, the book offers a basic yet comprehensive explanation of the central role of narrative in litigation.