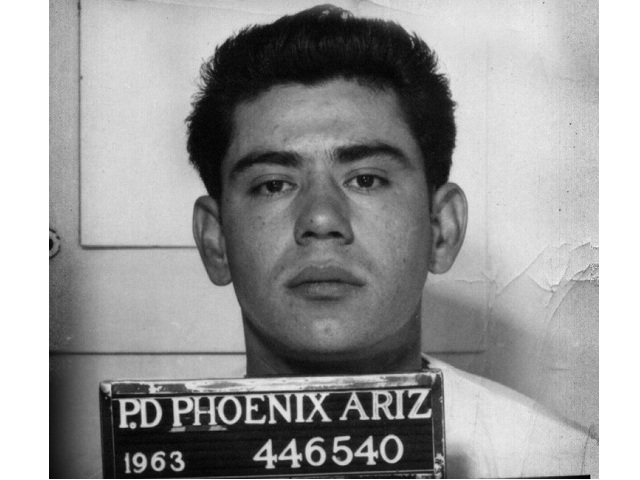 On June 13, 1966 the United States Supreme Court handed down the decision in Ernesto Miranda v. the State of Arizona, 384 U.S. 436 (1966). This case was actually consolidated with three others: Westover v. United States, Vignera v. State of New York and California v. Stewart, however, this case has become known to be simply Miranda v. Arizona.
Ernesto Miranda was arrested in Phoenix, Arizona in March 1963 based on circumstantial evidence linking him to the kidnapping and rape of an eighteen year old woman named Mary Adams ten days prior to his actual arrest.  At the police station, after hours of interrogation, he signed a confession. During the interrogation Miranda was not told of his right to counsel.  During the trial the prosecutor entered his confession as evidence; Miranda's attorney objected, stating that the confession was not truly voluntary and should be excluded. This objection was overruled and Miranda was convicted of rape and kidnapping at trial. The Arizona Supreme Court affirmed the trial court's decision.
Miranda's case and three other similar cases were appealed to the United States Supreme Court, with the Court handing down their decision fifty years ago this month.  The Miranda case has become famous because it establishes a defendant's right to counsel and of the right against self-incrimination.  Judge Earl Warren wrote for the majority, in the 5-4 decision, that these rights were guaranteed by the Fifth and Sixth Amendments to the Constitution.
After the Supreme Court's decision, the state of Arizona retried Miranda without the confession, but he was convicted on the strength of a witness and sentenced to 20 to 30 years in prison. He served eleven years and died in 1976, after being stabbed in a bar fight.
"Miranda Rights" have come to be known by the public through television shows and movies as the "right to remain silent" and "anything said can and will be used against in a court of law." Hundreds of law review articles have been written about this case and a defendant's "Miranda Rights."  The library also has a number of books about the Miranda case, including the titles listed below:
Miranda: the Story of America's Right to Remain Silent by Gary Stuart (2004).
The Miranda Debate:  Law, Justice, and Policing by Richard Leo (1998).
The Miranda Ruling: Its, Past, Present, and Future by Lawrence Wrightsman (2010).
Miranda Revisited by Frank Schmalleger (2001).