On Monday, February 20, in observance of Martin Luther King, Jr. Day, Brooklyn Law School will cancel all classes and close most of its offices. The BLS Library will be open from 9am to 10pm.
Brooklyn Law School is providing an opportunity to participate in the National Martin Luther King Day of Service. On Monday, January 20 2014, BLS students will join thousands of volunteers across the country as they take the opportunity to carry on Dr. King's mission of service to others. BLSA and BLSPI are spearheading a day of service by recruiting volunteers to participate in a Read-A-Thon from 10:30 AM – 11:30 AM at PS 375 Mosaic Prep Academy at 141 E. 111 St., New York, NY 10029. Volunteers will work with students as they practice their reading skills. BLS students who want to participate can meet up in the BLS Courtyard at 9:30 AM. For more information on the Read-A-Thon, visit: www.allforgood.org.
Dr. King, the most important voice of the American civil rights movement, was born on January 15, 1929 and is only the third American whose birthday is recognized as a federal holiday. In 1964, Dr. King received the Nobel Peace Prize at age 35, the youngest person ever to receive this high honor. He donated the prize money from that award to help fund his fight for civil rights in America. Four years later, Dr. King was assassinated in Memphis, Tennessee.
The BLS Library's first floor book display case features several print items about Dr. King including the 1978 King: A Biography by David L. Lewis (Call # E185.97.K5 L485 1978). It notes that Dr. King was elected president of the Southern Christian Leadership Conference in 1957. During his term, he traveled and spoke wherever there was injustice, protest and action. He led a massive protest in Birmingham, Alabama, that caught the attention of the entire world and provided what he titled a "Coalition of Conscience" inspiring him to write his famous "Letter from a Birmingham Jail". The letter became a call to action that started the Civil Rights revolution, with its drives in Alabama for voter registration for blacks, and the March on Washington, where he delivered his "I Have a Dream Speech" in front of 250,000 people.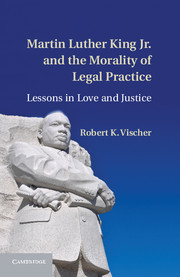 A newer book, Martin Luther King Jr. and the Morality of Legal Practice: Lessons in Love and Justice by Robert K. Vischer (Call # KF373.K523 V57 2013), looks at our understanding of the lawyer's work by exploring how Dr. King built his advocacy on a clear set of moral claims regarding the demands of love and justice in light of human nature. Dr. King never shirked from staking out challenging claims of moral truth, even while remaining open to working with those who rejected those truths. His example is an inspiration for the legal profession and a reminder that truth-telling has the capacity to move hearts and minds. Dr. King's success would have been impossible absent his substantive views about human nature and the ends of justice.
In addition to the print items, the display case has a page from the BLS Library's digital copy of Becoming King: Martin Luther King Jr. and the Making of a National Leader.