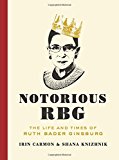 Her fans refer to her as the "Notorious R.B.G." a reference to the legendary rapper "The Notorious B.I.G." Ruth Bader Ginsburg jokes in an interview that they have a lot in common. They both come from Brooklyn. Through Ginsburg's history you can track the women's movement in the United States:  her fight for legal equality (for women and men), her position on an increasingly conservative court. It gives access to Ginsburg, who is interviewed, along with her children, her granddaughter, and her friends.
Starting with various right-wing figures calling Ginsburg "witch," "very wicked," "zombie," the documentary takes us on a tour through Ginsburg's life: her 1993 confirmation hearing for the Senate Judiciary Committee, recent interviews at Harvard Law School or the Virginia Military Institute, all of which help fill in the blanks of her lengthy career, as a lawyer working on women's rights issues to her eventual nomination to the highest court in the land. There is information of personal details: her love of opera, her friendship with Antonin Scalia, the diverse collars she wears to court, her lengthy marriage to Martin D. Ginsburg. Once we reach the present day, the memes take over, showing how Ginsburg has captured the hearts of a younger generation. Seeing a class full of high school students as they listen to Ginsburg's during a visit to their class is especially endearing.
Her husband, "Marty," was by all accounts a well-liked and gregarious man, and not threatened by his wife's ambitions. Gloria Steinem refers to her as a "superhero," but Ginsburg did not spend the 1970s walking in protest marches. Instead, she went about trying to establish legal precedent for gender equality. She did so in a couple of groundbreaking cases, like Frontiero v. Richardson, her first case before the Supreme Court. "RBG" profiles those early cases, where Ginsburg took the opportunity in her arguments not only to plead for her client, but also to teach the existing Supreme Court justices that inequality is real, and why it was wrong to treat women as second-class citizens. In one of her arguments, she quoted 19th century abolitionist and attorney Sarah Grimké,: "I ask no favors for my sex. I surrender not our claim to equality. All I ask of our brethren is, that they will take their feet from off our necks." The Supreme Court listened. Ginsburg won 5 out of 6 of her cases.
We get to hear a brief sequence dealing with her controversial 2016 comments about then-Presidential candidate Donald Trump, a serious break with the tradition of Supreme Court Justices maintaining poker faces, regardless of who is in power. One of the regular interview subjects is Senator Orrin Hatch, who may disagree with her politics but also admires her, expressing no doubt that she belongs on the Supreme Court. In the film, his is a measured presence, exuding an acceptance of disagreement and the need for compromise. His comments come from an earlier, more civilized world. Ginsburg is now queen of the dissenting opinion, but unfortunately the filmmakers stay far, far away from any "dissenting opinions" themselves.