On November 19, 1863, Abraham Lincoln spoke at Gettysburg, Pennsylvania, site of the bloodiest battle of the American Civil War in July of that with more than 7000 killed. Gettysburg attorney David Wills and local officials planned an elaborate dedication ceremony for a national cemetery for the fallen soldiers, inviting state governors, members of Congress, and cabinet members, and prominent orator Edward Everett as the keynote speaker. At the last minute, Willis asked President Lincoln to make a few remarks probably thinking he would not attend or simply deliver a few platitudes. But President Lincoln delivered a two-minute speech that redefined the nation. In a mere ten sentences of about 270 words, Lincoln delivered one of the most important political speeches in American history, one often called the Second Declaration of Independence.
Fourscore and seven years ago our fathers brought forth on this continent a new nation, conceived in liberty and dedicated to the proposition that all men are created equal.

Now we are engaged in a great civil war, testing whether that nation or any nation so conceived and so dedicated can long endure. We are met on a great battlefield of that war. We have come to dedicate a portion of that field as a final resting-place for those who here gave their lives that that nation might live. It is altogether fitting and proper that we should do this.

But in a larger sense, we cannot dedicate, we cannot consecrate, we cannot hallow this ground. The brave men, living and dead who struggled here have consecrated it far above our poor power to add or detract. The world will little note nor long remember what we say here, but it can never forget what they did here. It is for us the living rather to be dedicated here to the unfinished work which they who fought here have thus far so nobly advanced. It is rather for us to be here dedicated to the great task remaining before us–that from these honored dead we take increased devotion to that cause for which they gave the last full measure of devotion–that we here highly resolve that these dead shall not have died in vain, that this nation under God shall have a new birth of freedom, and that government of the people, by the people, for the people shall not perish from the earth.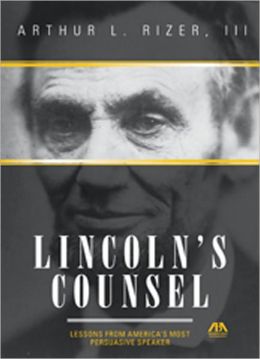 The Gettysburg Address still matters today. Brooklyn Law School Library's copy of Lincoln's Counsel: Lessons from America's Most Persuasive Speaker by Arthur Rizer (Call # KF368.L52 R59 2010), calls it the Greatest Closing Argument Ever Made: "Even today, brevity in closing arguments isn't universally appreciated. If an attorney gave a three-minute closing argument, he may be sued for malpractice. Despite this, with the Gettysburg Address, Lincoln used his skills as a persuasive litigator to breathe life into a cause that was costing so much human life. The speech was more than simple dedicatory remarks for a memorial site. He set out a position that advocated why his position was correct, much as a lawyer does in making a closing argument, and he did it quickly and beautifully."  More importantly, President Lincoln rededicated the nation to the principle of human equality, and to a government that reflected that equality by advancing the economic interests of all Americans. Now, as then, most Americans back Lincoln's vision and now, as then, some still oppose those principles for both racial and economic reasons.