This month, Brooklyn Law School will be launching the Center for Urban Business Entrepreneurship (CUBE). This new initiative will serve as a hub for exploring legal issues surrounding entrepreneurship, and for providing effective legal representation and support for new businesses. It will offer training for the next generation of business lawyers in technology, real estate, media, creative arts, energy, or any other area of enterprise with tools to support and help build the start-up successes of tomorrow.
BLS Associate Professor of Clinical Law Jonathan Askin is the  CUBE Innovation Catalyst and also Founder & Director of the BLIP Clinic. The inspiration for the project is allow BLS  law students to use their law degrees to explore new ways to represent innovative entrepreneurs, embark on ventures of their own, and trail blaze paths for the entrepreneurial lawyer and the legally-trained entrepreneur. BLS Dean and Professor Law Nicholas Allard is making a series of presentations seeking input from faculty and others about plans for the Center for Urban Business Entrepreneurship (CUBE).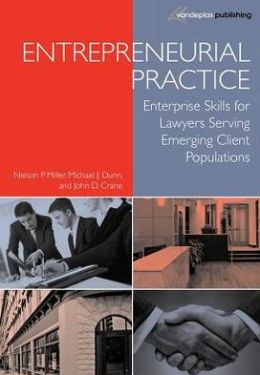 The BLS Library has in its collection Entrepreneurial Practice: Enterprise Skills for Lawyers Serving Emerging Client Populations by Nelson P. Miller, Michael J. Dunn, and John D. Crane (Call # KF300 .M554 2012). The book discusses the increasingly specialized role of law in our complex, technical, regulatory state affecting more people more frequently and more deeply than ever before. It argues that if communities are to prosper, lawyers must standardize law products and services to meet new needs, efficiently fit those services for individual clients, price those services transparently, and deliver them timely by accessible means. Lawyers who learn these new law practice conventions will have more meaningful and rewarding careers that promote the order, openness, health, welfare, and economy of their communities. These lawyers will use more mobile and powerful technology in more clear, precise, and technical means to convey better-suited law products and services to better-served clients.